Literacy First tutors apply to serve in this role for a whole host of reasons. We welcome tutors from various life stages, some with years of teaching and professional experience and others who are just beginning their careers and looking for an opportunity to explore different professions. In this series of tutor interviews, we're highlighting the reasons tutors choose to serve, their future goals, some memorable students they've worked with, and the unique takeaways they gain from their time with Literacy First.
Bri Vargas served as a Literacy First AmeriCorps tutor for two school years, from 2021-2023, first as a member and then as a Leader. This school year (2023-2024), she has moved on to a new role as a third-grade English Language Arts teacher at the same school where she tutored! Learn what inspired Bri to follow a career in education, what she hopes to do in the future, and how the Literacy First staff and program supported her along the way. This interview was edited for length and clarity.
---
Literacy First (LF): Can you tell us a little bit about yourself? Where are you from? What professional, academic, and life experiences led you to where you are today?
Bri: I am from everywhere. I've moved 13 times so I call myself a nomad. Austin's my home, we've been here for about 10 years now. What originally brought me to Literacy First is that my sister was diagnosed as dyslexic. Her diagnosis inspired me to work in education, but I wasn't exactly sure what field. I started doing a lot of research on reading instruction and literacy and what kind of jobs would be available, what education is necessary. I had a Bachelor's in Psychology which isn't necessarily transferable to education but it did help a lot with things like early childhood development. When I was looking up entry level jobs, I found Literacy First. I have learned a lot about dyslexia from my supervisor, Sebastian Wren, and from training modules.
LF: What do you enjoy most about teaching? Can you tell us about a particular student who has had an impact on you?
Bri: Working with the kids is the most fun. There's a student that I'm tutoring this year named Ruby, and she is incredible. She's so, so quiet. She would do everything I'd ask her to do, but she wouldn't talk at all in the beginning of the year. It took until about the middle of the year for her to actually start telling me things about herself. She's such a sweet child, and she's incredibly hardworking. Now she's opening up in class more often, and her teacher's saying that she's participating and using full sentences, which was one of the things that we were working on in here.
I've learned that relationships matter a lot from working with her. English is her second language, so she's an emergent bilingual student. While I think language might have been part of the barrier for us initially getting to know each other, I think that being able to find ways to connect with her really taught me how to build relationships with all of my students.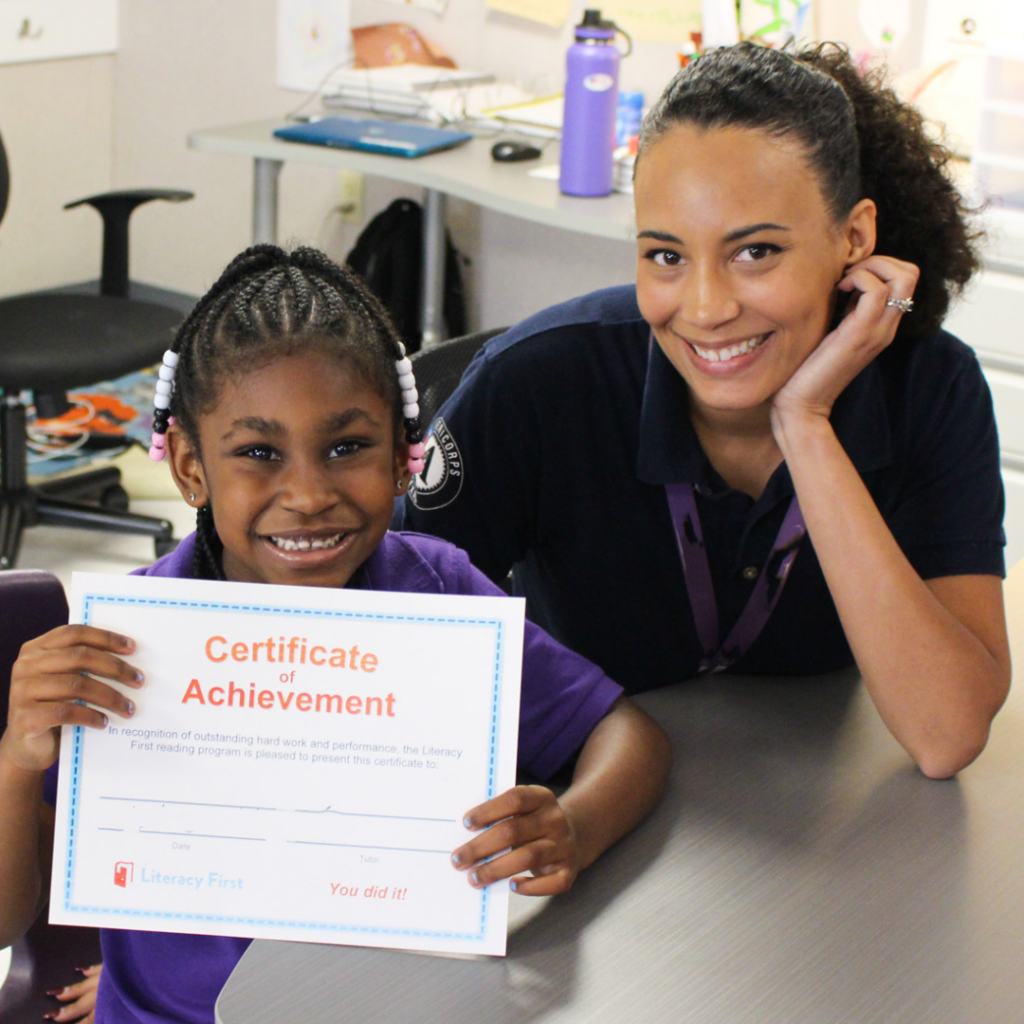 LF: Thinking back over the past two years, do you have a particular achievement or contribution from your time as a tutor that you're proud of?
Bri: I have helped out a lot with this program and I'm really proud of all of the work that I've done here. My son and I were part of the training videos for the new Literacy First Phonics Curriculum. I also helped pilot the updated phonics curriculum with Sebastian. Me and a few other tutors provided feedback for what the students liked and what they didn't like, where they were struggling, where we were struggling. That's something I really enjoyed doing.
LF: What motivated you to apply for a second service term?
Bri: Sebastian, my supervisor, did. The first year I was discussing being a diagnostician. I thought I was going to remain on the psychology route. But after having a lot of conversations with him, one of the things that he discussed with me was how he could see potentially me working in policy. In order to do that, I really want to make sure that I understand different levels of education. I've worked in a high school level, I've worked in middle school, and now I'm in elementary. And next year with third grade and having the ability to work with a STAAR (The State of Texas Assessments of Academic Readiness) grade, I think is going to add to that as well. He's provided a lot of guidance and really encouraged me along the way. I was fortunate to be able to keep working with him this year.
LF: How did Literacy First help you prepare for your future?
Bri: Oh, so many ways. I think having a strong foundation in phonics instruction is definitely beneficial. That's one of the reasons why the principal at the school wanted me teaching third grade, because I do have a strong phonics background. They've encouraged my education. I'm currently working on a Master's degree in Elementary Education, early childhood through sixth certification, with English as a Second Language endorsements at Texas State University. They have helped me throughout the year with my grad school program, allowing me to find balance with work, school, and my personal life. They also have all these other opportunities for alternative ways to get certified. So, having the option to work through grad school was really, really important to me.
LF: What would you say to someone who's considering becoming a tutor?
Bri: Dive in, do it! You'll learn a lot, it's fun, and we have an incredibly supportive leadership program.
---
Bri is one of many Literacy First tutors who pursued teaching and were hired to work at the same school where they served as tutors! Over 100 former tutors completed their teaching certification while serving in our program. Last year alone, 20 of our 54 total AmeriCorps tutors stated that they planned to pursue a career the education field upon exiting the program.
Are you looking for a pathway to become an educator? Consider taking the first step by becoming a Literacy First tutor. Visit the Become a Tutor page to learn more.