Literacy First tutors apply to serve in this role for a whole host of reasons. We welcome tutors from various life stages, some with years of teaching and professional experience and others who are just beginning their careers and looking for an opportunity to explore different professions. In this series of tutor interviews, we're highlighting the reasons tutors choose to serve, their future goals, some memorable students they've worked with, and the unique takeaways they gain from their time with Literacy First.  
In this installment, we'll hear from Hannah Tymonek, a 2022-2023 Literacy First English tutor who will return for the 2023-2024 school year as a Leader, a returning AmeriCorps member who serves as a mentor to first-year members and develops their leadership skills through Literacy First's Leader Academy. This interview was edited for length and clarity.  
---
Literacy First (LF): Can you tell us a little bit about yourself? What professional, academic, and life experiences led you to where you are today?
Hannah: I moved to Austin from Grovetown, Georgia last August. I was born in Fort Worth, Texas but moved to Arkansas when I was only nine months old. It is so nice to be back in Texas, my birth state, and to be able to explore it! I earned a bachelor's degree in marine biology from Anglia Ruskin University in Cambridge, England. I taught English as a Second Language (ESL) in Prague, Czech Republic for four years. That was when I realized that I love working with children and teaching!
LF: How did you learn about Literacy First?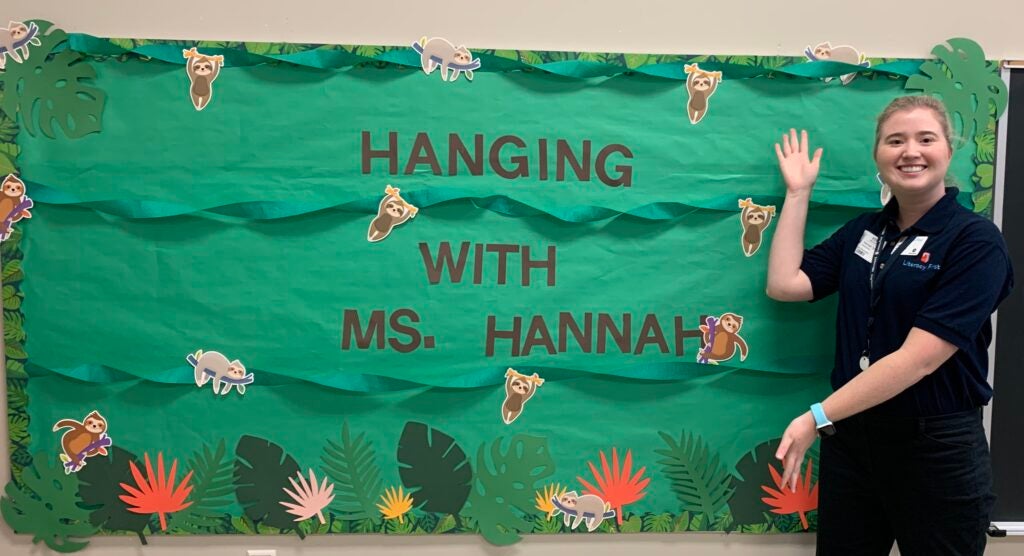 Hannah: I first learned about Literacy First through a Google search. I was looking for an opportunity that would allow me to gain experience working in a school, with the potential pathway to becoming a certified teacher. When I came across Literacy First, I thought that it seemed like a wonderful program and a great fit for me!
LF: What inspired you to become a tutor?
Hannah: When I taught English as a Second Language in Prague, I realized that I love teaching and working with children. I love building positive relationships with my students and find it so rewarding to see their progress, especially seeing their eyes light up when they grasp a challenging concept. When I moved back to the U.S. I stumbled across Literacy First and thought that it would be a wonderful experience. I have loved getting to know each of my students, becoming a part of the school community, and watching my students' confidence grow as they learn new skills.
LF: What do you enjoy most about this position?
Hannah: I find it so special that we get to tutor our students one-to-one, allowing us to truly get to know them, motivate them, and tailor the Literacy First lessons to fit their needs. It is so rewarding to support students learning how to read. It is amazing to watch a student go from knowing no letter sounds to being able to read short stories! I also love all of our Literacy First team-building activities and volunteer opportunities. I have made so many new friends this year!
LF: Can you tell us about a particular student who has had an impact on you?
Hannah: One student that has had a particular impact on me this year is a second grader named Oliver. When I first started tutoring him, he was behind grade-level in reading. His classroom teacher told me that he was embarrassed to read in front of the class, since he was afraid that his classmates would not be able to understand him. Throughout the year, I saw his confidence grow. He became excited and motivated as he saw his weekly progress scores increase. He became engaged in the lessons, asking questions about the stories and fully participating in what he was learning.
One day, he told me about how he loves to play basketball. So, we started to compare learning to read to learning to play basketball, "the more we practice, the better we will become". From working with him I learned that it is important to find ways to connect with our students and build authentic relationships with them. He graduated from Literacy First in March, with scores higher than grade-level.
LF: What motivated you to apply for a second service term with Literacy First?
Hannah: I love Literacy First and have had such an amazing year… from teaching students how to read, to making new friends, to exploring Austin! I am so excited to have the opportunity to come back for another service term! I look forward to all of the new people I will meet and all of the new experiences I will have.
LF: What are your future career goals?
Hannah: My future career goal is to become an elementary school teacher. I would especially love to teach kindergarten!
LF: What are you most looking forward to in your second year with Literacy First?
Hannah: I am so excited to have the opportunity to come back to Literacy First as a leader next year! I look forward to continuing to tutor students, forming new friendships, and challenging myself professionally. I additionally plan to join Region 13 (an alternative teacher certification program in Central Texas/Austin) to fulfill my dream of becoming a certified elementary school teacher!
LF: What would you say to someone who is considering becoming a tutor?
Hannah: I would tell them to just do it! I think that they would end up having an amazing year, one filled with new experiences, perspectives, and friendships!
---
We estimate 20% of Literacy First tutors serving with AmeriCorps come back for a second, third, or fourth term. With our District Capacity Building Model where paraprofessional tutors are hired by the school district, retention rates tend to be even higher, with about 80% of Literacy First tutors returning year over year.  
Historically, 100% of tutors who earn their teaching certification while working for Literacy First find employment afterwards as teachers.  
Would you like to serve your community while gaining valuable experience in the education field? Visit the Become a Tutor page to learn how to become a tutor with Literacy First.