In recent news, there's been a lot of talk about what "national service" means. National service programs like AmeriCorps are part of the Corporation for National and Community Service , which is currently in the spotlight as the federal budget reaches its April 28 announcement date.
At Literacy First, we see the impact of national service through the significant growth we see in every tutor that we train and every student that they teach. As the director of the longest running AmeriCorps program in Texas, I'm so proud of our work, and I'd like to share some facts about AmeriCorps service that you might not know.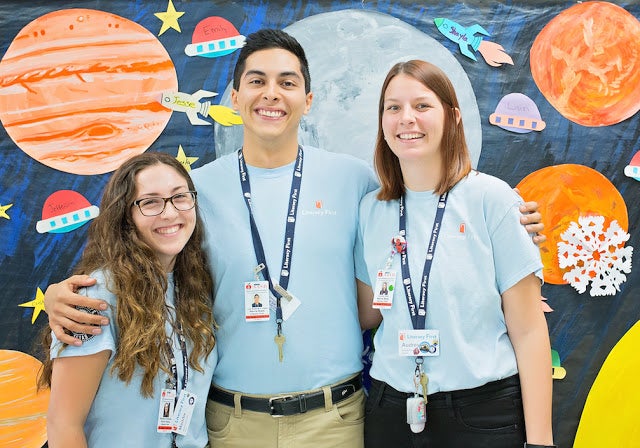 AmeriCorps Members Are Not Volunteers
When most of us think of a volunteer, we picture a community member who donates his or her time once a week for a few hours. Volunteers certainly fill a critical need, but Literacy First tutors, like all full-time AmeriCorps members, work in the community at least 40 hours each week as a requirement of their service.
Just like a person volunteers for the armed services and gets paid to be a soldier, AmeriCorps members volunteer for full-time community service and receive a small monthly living allowance ($1300/month). They have volunteered a year of their lives to serve their country in AmeriCorps—a federal program that annually enlists over 80,000 people in civilian national service that meets critical local needs. We call them AmeriCorps members for that reason; we never call them volunteers.
The intensive training and daily work provided by AmeriCorps members are precious resources, taking on the role of several traditional volunteers. If you calculate it out, Literacy First would need at least 2,500 once-a-week volunteers to do what our 106 full-time tutors accomplish every week. Our partnership with AmeriCorps helps Literacy First to effectively and efficiently serve 2,200 Austin children that would otherwise lag well below grade level in reading each year – a gap that is proven to impact their success for life.
And we are only one of eight AmeriCorps programs in Austin. AmeriCorps members provide vital services to at-risk students, veterans, the homeless, the elderly, and the disabled. They even work in areas like disaster relief­—like cleaning up after the Halloween Flood in Dove Springs––all at a very low cost to their communities. Over 600 AmeriCorps members serve Central Texas. Their combined 700,000 hours of service directly affects 27,000 of our most vulnerable children and families.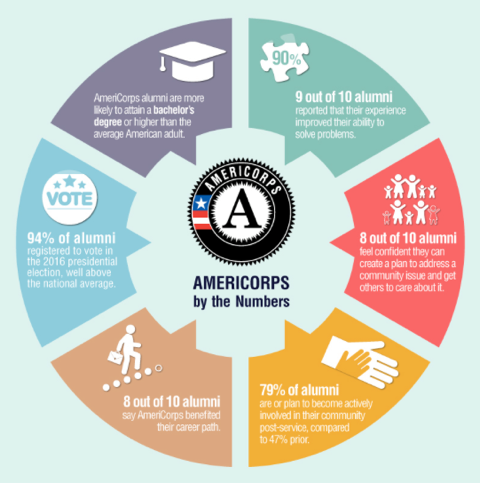 AmeriCorps Members Are Leaders in Our Community and Beyond
Americans of all ages and backgrounds give their time and skills to our country by serving through AmeriCorps. Each of their days is fully dedicated to making our neighborhoods better, so they gain skills that make them strong leaders for years to come.
They learn to teach: Literacy First, like most AmeriCorps partnerships, has an intensive two week training and ongoing follow-up process before our tutors can begin working with the students.
They learn to adapt to diverse environments: Most of our tutors have not dealt with the issues of low-income early education. With the skills gained during training, our tutors can work effectively with all types of people in all types of situations.
They learn to communicate and collaborate: Literacy First tutors are closely mentored by staff experts who provide feedback and guidance for any number of situations.
They learn to act responsibly and thoughtfully: Each AmeriCorps member must carefully manage their time and resources to provide quality support to the people they serve and maintain strong relationships with their colleagues.
These are skills that they use for the rest of their lives. Most AmeriCorps alumni continue their path of service. They reinvest their experience and education to keep communities strong across the nation.We see that in our alumni in so many ways—they become informed and engaged citizens who are active in their community and are rising leaders in their professions.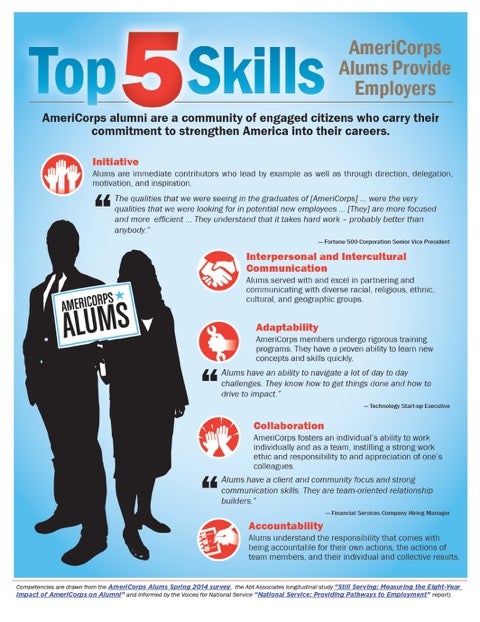 Some Things Can't Be Measured in Dollars and Cents
The additional benefits that AmeriCorps members provide our students can't be counted, but are deeply felt. One of our staff, Sebastian Wren, Ph.D., puts it like this: "The relationship between the tutor and the kid goes well beyond the development of learning basic reading and decoding skills. [Their bond] goes into the enjoyment of reading, the sense of belonging in school, the mentoring, and the feeling that 'somebody really cares about me.'"
The services given by AmeriCorps members and alumni are priceless assets for our national community. Every single day, AmeriCorps members work to alleviate urgent community needs—teaching children to read, mentoring young adults, opening opportunities for college access, and providing disaster relief and recovery. We thank all AmeriCorps members for their dedication, and are honored to work with them at Literacy First.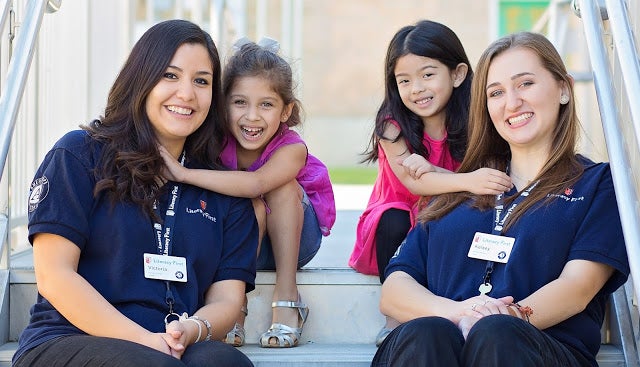 AmeriCorps is a way to serve your country and strengthen your community. If you are interested in serving with us next year, or know someone who would be, please visit our website at www.literacyfirst.org.
*Find out more about how AmeriCorps makes Texas a better place for everyone by visiting onestarfoundation.org.