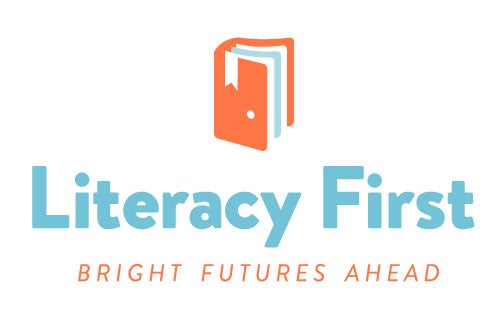 ACE: A Community for Education, based at The University of Texas at Austin, unveiled a brand new name and logo today. The new name, Literacy First, positions the organization as a regional leader in early literacy tutoring.
"We have over 20 years of experience helping young children become successful readers, yet very few people know about our work," said Dr. Mary Ellen Isaacs, director of the program. "We are closing the achievement gap for over 2,000 students every year, and now we can communicate that impact much more effectively to people who might not be familiar with what we do."
The new name and logo will be publicly unveiled at an event on the UT campus. Cecilia Abbott, Texas First Lady, and Austin Independent School District Superintendent Dr. Paul Cruz will be guest speakers. The Honorable Tom Phillips, retired Chief Justice of the Texas Supreme Court, will lead our newest group of 100 tutors in the AmeriCorps Pledge. Literacy First is grateful to these community leaders for showing their support of our new brand.
Founded in 1994 by Dr. Uri Treisman, national education leader and executive director of the Charles A. Dana Center, Literacy First has spent the past two decades providing one-to-one, highly effective literacy tutoring to over 17,000 struggling young readers in low-income elementary schools. The program's reach now leverages partnerships with AmeriCorps, private foundations, local and national corporations, five school districts, and hundreds of individual donors.
The reveal of the new name and logo follows an intensive rebranding exploration process in which the organization worked to distill its values and identity. Everyone involved recognized the program as a collection of literacy experts who have endless compassion for the young children they serve—and who will fight tenaciously to give those children a strong start in school. Our Advisory Board and staff members believe the new name, Literacy First, will highlight the organization's core values: that children reading successfully by third grade must remain the group's focus, that literacy should be the number one educational priority for children, and that reading skills should be cemented as early as possible in a child's education.
The new name's inclusion of the word "first" also emphasizes the way that the organization tackles illiteracy as a root cause of poverty. National studies have shown that students who can't read by third grade become four times more likely to drop out of school, thus continuing the cycle of poverty. By making sure that low-income children become strong readers in those crucial early years, Literacy First gives them the chance to succeed in school and pursue a brighter future. This mission to help students become their best selves through literacy is reflected not only in the company's new tagline, "Bright Futures Ahead," but also in the name Literacy First.
"ACE has long been considered by many to be the 'first,' as in the premiere, early literacy intervention program in Austin," says Teresa Oppedal, Advisory Board Chair for the organization. "ACE was also built on the conviction that among the skills children need to succeed in school, literacy is first. Now our new name states that imperative loud and clear: Literacy First."
Oppedal also views the new name as an opportunity for rebirth not just in clarity but in visibility as well: "The Advisory Board are excited to have a name that leaves no ambiguity as to what our mission is and what our accomplishments are. We are shouting it from the rooftops!"
While the name and logo may have changed, the visionary program will continue implementing the same high quality tutoring and getting the results that school partners have come to expect under the program's previous monikers. In the 2016-2017 year Literacy First will send over 100 AmeriCorps literacy tutors into 32 elementary schools in the Austin area, teaching 2,300 students in kindergarten through second grade how to read.