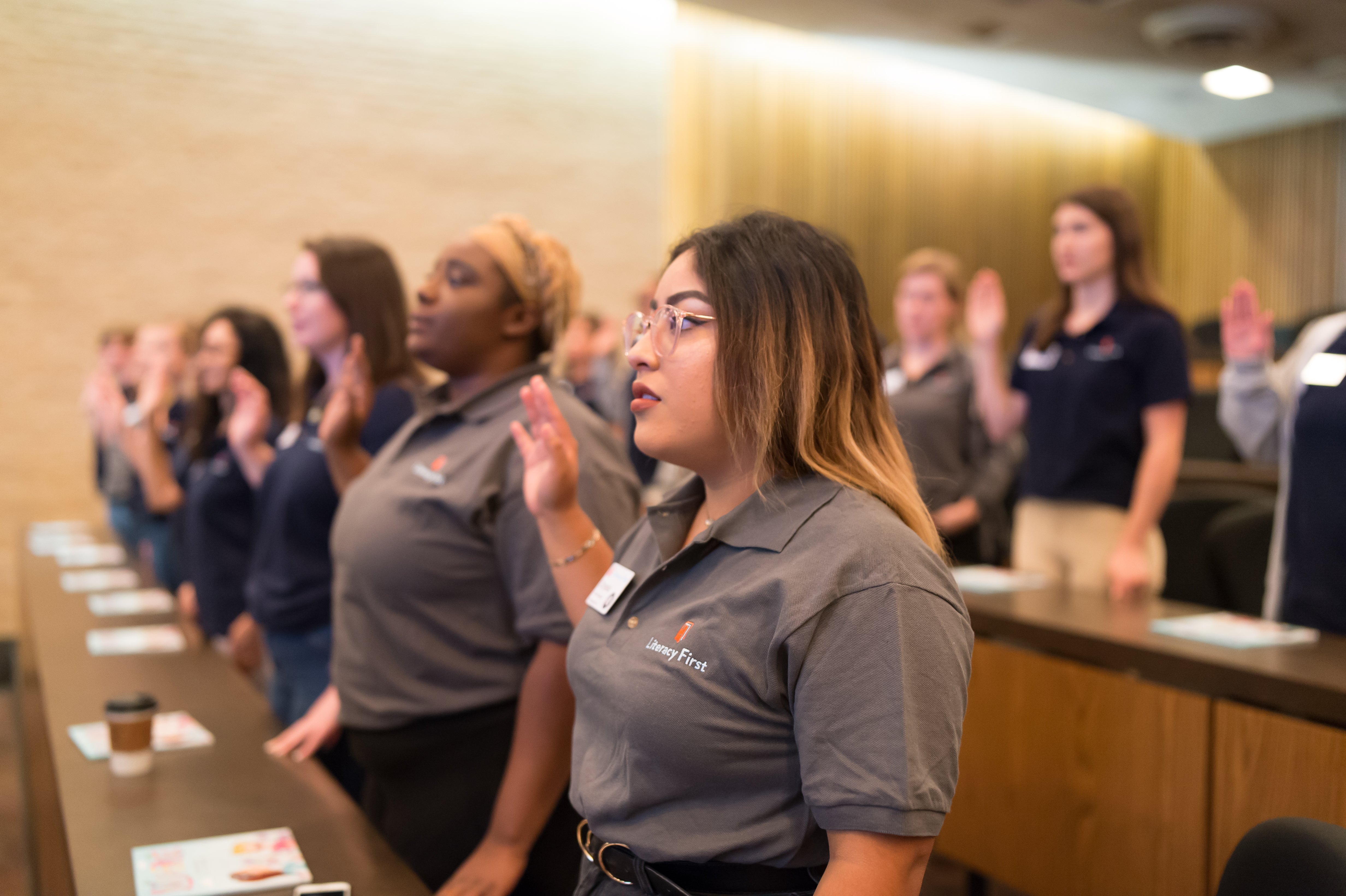 For the 26th consecutive year, Literacy First welcomed a new cohort of AmeriCorps members to the program with an inspiring Swearing In Ceremony. More than 50 tutors officially pledged a year of service at the Thompson Conference Center on Monday, September 9th.

Dr. Mary Ellen Isaacs, Literacy First Director, opened the ceremony with a message on the persistent impact of poverty on childhood literacy rates, and highlighted how, since 1994, Literacy First tutors and staff have been successful in reversing that impact.
The keynote address was given by Michelle Castillo, a former Literacy First tutor who now serves as Chief of Staff for Texas House Representative James Talarico. Michelle spoke about entering UT-Austin her freshman year as a first-generation college student and daughter of immigrant parents, and learning through her experience with Literacy First that she belonged, that her story mattered, and that she already possessed what she needed to make a difference. "Nothing could have better prepared me for a fulfilling career in public service than being an AmeriCorps Work Study Literacy Tutor at the University of Texas at Austin," Michelle said. "Being a literacy tutor meant becoming a part of a community that understands its greatest value and resource for a more equitable and just future is serving our children." 
Next, guests were treated to a read-aloud by Jennifer Lynch, local children's book author. Livi & Grace, illustrated by Missi Jay, is a story based on Jennifer's own dissimilar daughters that encourages all children to celebrate their uniqueness. Each tutor left with a copy of the book, and all Literacy First students will receive a copy to take home this fall.
Dr. Uri Treisman, Executive Director of the Charles A. Dana Center at the University of Texas and Co-Founder of Literacy First, then inspired tutors and guests alike with invaluable lessons from his many years of public service. "Focus on the strengths," he urged, "because that's what you need to see to make things better."
The ceremony closed with Dr. Treisman leading the 26th cohort of Literacy Fist AmeriCorps members in the official AmeriCorps pledge. As these tutors tackle challenges and celebrate successes during their year of service, the final line of that pledge will guide them forward:
"I am an AmeriCorps member, and I will get things done."