Many Literacy First tutors come to the program with an unchanneled drive to create social change and leave with a clear sense of their next steps. Amy, a first-year tutor, reflects on what she's seen in the program, and what it means for her service journey.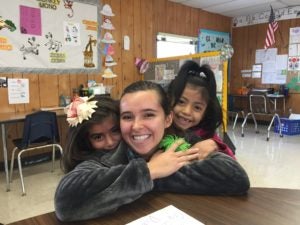 By Amy Wasetis, 2017-18 Literacy First tutor
I started Literacy First knowing that I wanted to be a part of something that would allow me to make a difference. I had seen the injustices that cripple our society, and I had to be a part of the change. Literacy First jumped out at me because I know just how detrimental it can be for a student to fall behind, get discouraged, and slip through the cracks of our school system. I have always been eager to volunteer, and children are my favorite group to serve.
I grew up in a community of support with parents that provided for me and teachers that supported my aspirations. However, I know that far too many kids are not as lucky. Every day at Literacy First, I was able to serve others and work directly with my community. I worked with kids that were diverse in everything from personality to ability level to parental support. This has taught me how to be intentional with my students. I must be conscious of their moods and triggers, and their strengths and weaknesses. Literacy First has also driven me to look at the data I have for each student, to assess both their needs and achievements, and to look for new ways to serve my students.
It didn't take me long after starting to tutor before I knew that this was where I was going to go next. I am on the way to becoming a teacher now. I've enrolled in a residency program to be a student teacher while getting my master's in education.
I think that all change comes from a ripple effect. We must start working to encourage kids from a young age to be leaders, while also developing an acceptance for different cultures and ideas. Literacy First has encouraged me and supported my intent to create an environment in which social justice is formed by providing a space in which students feel safe to be themselves. I think this is crucial. This passion and drive for making my students accountable, while building them up to become the best versions of themselves, is why I want to make teaching my career. Not just to serve children or those less fortunate, but to hopefully give at least one child a voice they thought they could never have.
I want to show my students the importance of their education and encourage them to strive to be fundamentally good. To know what they deserve and to use their voices to make a difference.
I can't imagine where I would be without this year with Literacy First. I had not seriously thought about teaching until my time in the program and I don't know that I would have had the confidence to do pursue the profession without this community. Literacy First has been one of the most impactful and transformative experiences for my career.