Dr. Seuss Reading Day 2019
March 1, 2019 @ 8:30 am

-

1:00 pm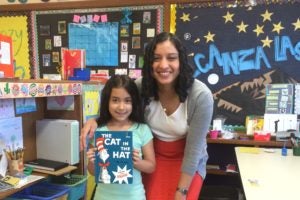 Thank you to all of our Dr. Seuss Reading Day 2019 attendees!
Literacy First's Lawyers for Literacy group invites members of the community who are interested in taking up the fight against childhood illiteracy in Austin to join us for Dr. Seuss Reading Day! Give an hour of your day to connect with AmeriCorps members giving a year of service, observe part of a one-to-one literacy tutoring lesson, and read a book aloud to a young child who will be delighted to see you!
We thank you for your support of Lawyers for Literacy, Literacy First, and Austin's youngest readers.
Details
Date: Friday, March 1, 2019
Time: Shifts begin at 8:30am / 10am / 12pm. Each shift is approximately one hour long from start to finish.
Click here to view a map of participating schools.
Parking
Each school has limited designated visitor parking. Please mind the signs, but you will not need a special parking permit. If the visitor parking lot is full there will be additional street parking available for free.
What to Bring
Valid driver's license or state or federal ID (needed to obtain a visitor pass).
Dress is business casual or what you would normally wear to work.
Your Reading Session
Arrive at your selected school and shift time. Please be punctual, as our lessons are timed. If you will be late or unable to make it, please contact Sarah Lowery at sarah.lowery@austin.utexas.edu. A Literacy First staff member will greet you in the front office to assist you in signing in and will escort you to the tutoring area. School officials will need to see your ID before issuing you a visitor pass. Each campus has 2-4 tutors. Each tutor will share a bit about their background, discuss why they chose to serve with Literacy First and give you a chance to introduce yourself. Guests and tutors will then pair up. Tutors will get their students from the classrooms while you wait with Literacy First staff in the tutoring area. Tutors will introduce their student and guest, and then the tutor will conduct part of a regular lesson while you observe. Guests will then read aloud a book provided by the tutor, either in Spanish or English.
If we have permission, a Literacy First staff member will then take a photo of you with the tutor and student at the end of the reading session.
Tutors will walk children back to class, while Literacy First staff escort you out of the school.
Never read to a student before? No problem. Watch our video to learn a few tips and tricks.
CAN'T MAKE IT TO DR. SEUSS DAY?
If you can't make it to our Dr. Seuss Reading Day, don't worry. You can still help us fight illiteracy by donating to Literacy First during Amplify Austin on February 28-March 1, 2019! Learn more and give here!