By McKenna May, 2019-2020 Literacy First Tutor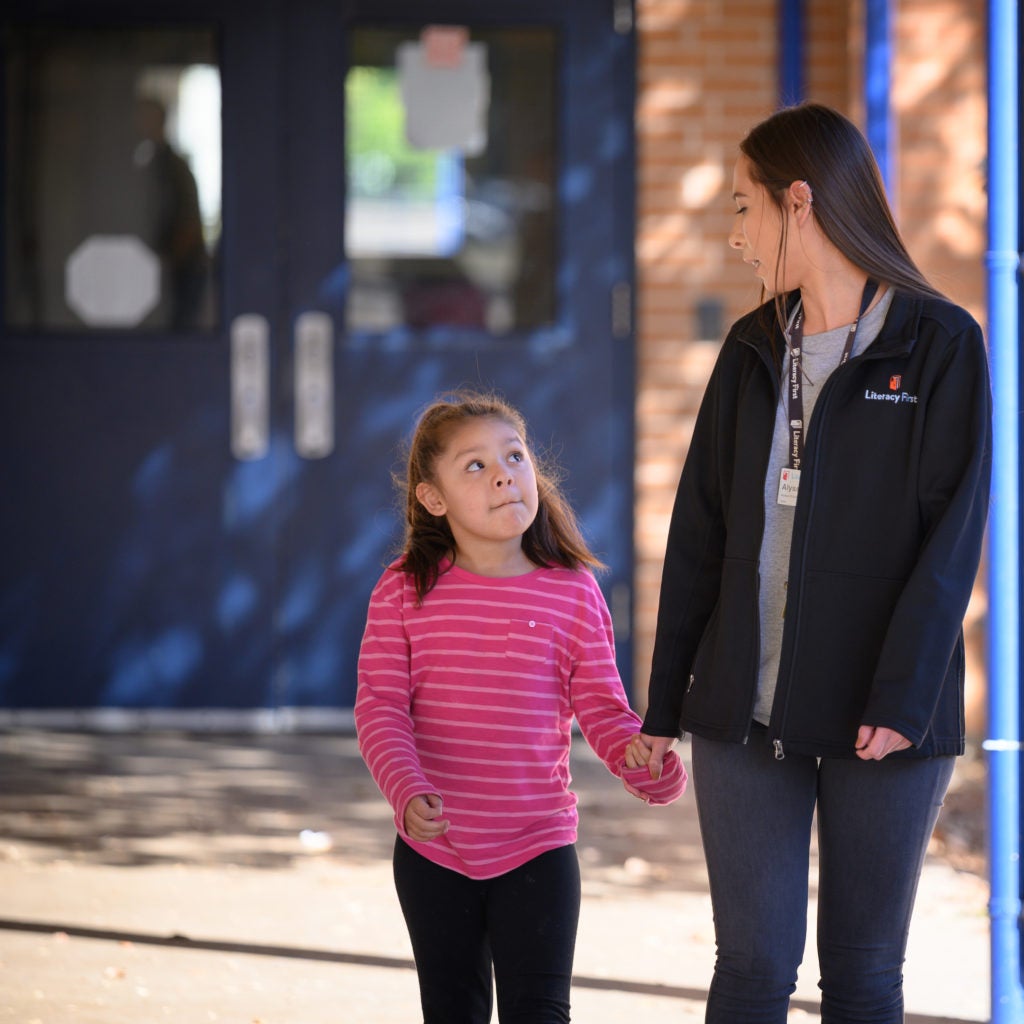 It's 11 a.m. on a Wednesday and I'm sitting at home, on my couch, trying to type with a dog on my lap. This doesn't seem like a bad place to be. I love my dog and this couch is very comfy. If this were a weekend or spring break or merely a sick day, then I'd probably be very happy to be here. But I have sat on this couch, with this dog, on my computer for the past four weeks and it feels wrong. It's 11 a.m. on a Wednesday. I should have just taken my sixth student of the day— a kindergartener who always dances down the hallway— back to his class. I should be putting my lunch in the microwave and getting ready to eat and reenergize with my team. If this were a normal day, one of us probably would have brought a snack to share, students would walk by and wave, teachers would stop by to share a story or a joke. But this is not a normal day or week or month. And this story is hard to write.    
I suppose I should have seen this coming; people say a big pandemic happens once every hundred years. The last one was the Spanish Influenza in 1918. Throughout time, even with a hundred years of medical advancement, pandemic advice seems to be the same: stay away from people and wash your hands.
Now I'll be honest, if this happened a year ago, I would be perfectly happy to stay at home. I'm an introvert who up until recently relished cancelled plans. That was before I started my AmeriCorps service year with Literacy First. Since September I've gotten used to 45-hour, high intensity, boots on the ground weeks in addition to weekly improv classes and rehearsals. Since December even my weekends were booked solid. I hadn't had a single day of rest in months. And even though I was constantly exhausted, I miss it so much. I thought I'd be glad to have an indefinite break, but I was wrong.
I got used to devoting my time to service. I got used to laughing through sessions with students. I got used to the heart to hearts and tears that would well when one of my kids opened up to me for the first time. I got used to drawing chalk unicorns with my Community Partnership students after school. I got used to helping and hanging out with the teachers at our school. I miss decorating for festivals or upgrading our bulletin board to match monthly themes. I miss early morning coffee and conversation with my team.
Mostly, I miss my kids. I miss each and every one of them for different reasons. I think about them every day and wish I could have one more lesson with them. I wish I could tell them that I would still be working with them if I could. I'm not giving up on them, I think about them every day and am doing what I can to support them from home. I hope they are reading their books. I hope they have structure and joy in their lives. I hope they can go outside and feel the sun on their faces and the air in their lungs. Mostly I hope they aren't scared, and that they are enjoying this time off.
I always knew that our service as Literacy First members was important, but I didn't realize just how vital it was until now. Schools give students safety and structure. It gives them a social life. We as tutors give them someone they can depend on. Someone they can succeed and fail with, no judgement. We provide them with enriching and very necessary reading skills, but we also provide friendship and emotional support. I hope my kids feel me sending that support out from this couch.
It's 2 p.m. now as I'm writing these last sentences. I should be picking up my last kid. It's a toss-up of whether he'd run to hug me, try to scare me, or rush to read his favorite story. But it is certain that he would make me smile. In these strange and scary times, I'll remember that. I'll remember all my students' smiles and stay strong for them. It's 2 p.m. on a Wednesday and I am ready to get to work.