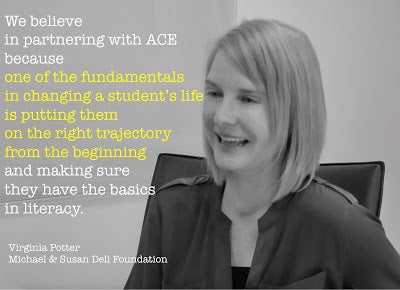 What do a tutor and a program officer for one of the biggest foundations in town have in common? Turns out, quite a lot! They're both first-generation college students. And they've both lived in foreign countries: Henry was a teacher in China for four years, and, as a child, Virginia lived in Mexico (among many other places—she and her parents had moved 27 times by her 14th birthday!). 

Most of all, they both share a passion for educating young people and learning about other cultures. Here are some highlights from their conversation*.
Henry Jaeger (HJ): Why has the Michael & Susan Dell Foundation chosen to partner with Literacy First long-term?
Virginia Potter (VP): Literacy First was the first organization to ever receive three recurring years of funding, up front, from us. Not only had they been around for many years, they had an amazing track record of results, and they were very quiet and humble about it. It made me really want to learn more.

I've really enjoyed getting to know [Literacy First], getting to see how things really work on the ground, getting to understand why the results are so good. From the beginning, [Literacy First leadership] had a great plan for expansion but they were making sure that they didn't lose track of any of the quality of the program, the impact it was having on kids and their families, and really how it impacted not only the education sector but the entire nonprofit sector in Central Texas. That's something that was true on Day 1 of meeting [Literacy First], and is still true today, years later. That's phenomenal. 


HJ: From the tutor's perspective, the Literacy First staff has done a really thoughtful job of training us and preparing us, too. That's why I signed up to do a second year with them next year—because I've seen that they really care about the tutors. [The Literacy First staff] are our advocates.
But how are we advocates for you? What is the Foundation's vision for education in Austin, and how does Literacy First help?
VP: [Central Texas] has just over 300,000 kids in the region, and when you look at the numbers, about half of those students are underprivileged. And we know that, many times, kids who come from disadvantaged backgrounds don't have the same chances that others do. Literacy First really has shared the vision with us to make change over time in this region.
 So we believe in partnering with them because one of the fundamentals in changing a student's life is putting them on the right trajectory from the beginning and making sure they have the basics in literacy. At a scary time, when you're young and you're first starting to go to school, making sure that you have a partner in that experience with a Literacy First tutor is absolutely phenomenal. It can have ripple effects to their siblings, to other family members, to their friends.  It can really be that 'tipping point' in the community.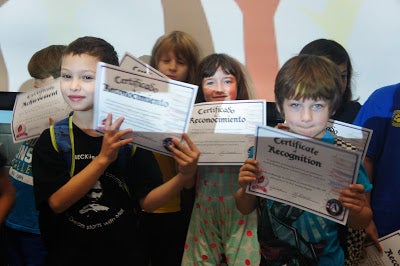 HJ: As a grant maker, how does the Foundation think that public-private partnerships are important for social change?
VP: When public-private partnerships go well, you can see great reduction in costs and huge program improvement. I think Literacy First is a perfect example of this. [Literacy First has] been doing this for a long time, working with the federal program through AmeriCorps. I think it's a good way to share the risk between the government and the private sector. With public-private partnerships, really making that investment and sticking with it and following through, that's when you start seeing results.
HJ: I'm a first generation college student, so I've seen how much it can help you to have someone lead you. And my students, they have so much going on at home usually, that my experience really is so much more than just being a literacy coach. They get to know you, they share things with you, they're excited to see you every day. That's one of my favorite parts of being a tutor, getting to walk my kids through the hallways and hearing about what's going on in their lives.
VP: It's so true. And I see people like you, Henry, and Literacy First collectively as the beginning of that care pipeline for a child. I think you guys are really laying the foundation to help kids to know that it's okay to seek help, and that there are people out there who do want to support you.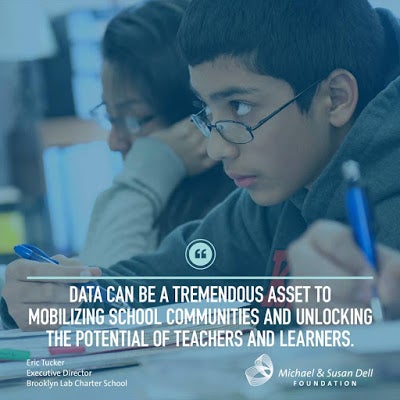 HJ: Beyond working with Literacy First and other Austin programs, you've also worked with programs in other countries, right? What are some of your favorite international programs that you've worked with?
VP: I had the chance to help with the Dell Young Leaders program in South Africa. Not only do we support the South African college students with technical assistance and a stipend for schools, we also support them by helping them find a job when they graduate. The pressure was pretty high to find those kids jobs. I got to know them really well, and prepared them for interviews. And to see them get a job – and be Facebook friends with them now – and see the amazing things that they're doing not only for themselves but for their families and their communities, just brings tears of joy to my eyes! That was an amazing program to be part of.
HJ: Do you have a favorite memory connected to Literacy First?
VP: I have lots. But I want to say, when I think of our relationship with Literacy First,  you all are the type of partner we constantly seek out. [Literacy First is] never happy with the status quo; you're making a huge impact for thousands of kids in Central Texas. And I think it's done with amazing leadership, grace, while thinking of everything that's being affected around you—of the schools, the kids, and their families, of the tutors and what's next for [Literacy First].
I really see Literacy First as a partner that believes in leaving a place better than the way they found it. That's huge, and very rare. [Literacy First] is unique in the way you operate, and your collective vision of the world is one that allows [your program] to have limitless impact.
*This conversation has been edited for clarity and length.