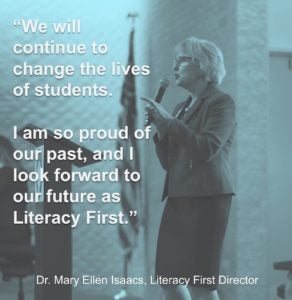 One of the joys of working in a program that runs on the school year's schedule is having an annual opportunity to reflect and "begin again." Each June, we celebrate the amazing accomplishments of the past year. Then we quickly turn our attention to preparing for the next school year: the detailed work of fine-tuning our program and always striving to be better at what we do. Then September arrives, and there's a palpable excitement to launch a new cohort of AmeriCorps literacy tutors…it's always a new beginning for all of us. This year, my excitement is even greater as we launch our new identity as Literacy First.
I love our new name. For one thing, people will no longer confuse us with other programs, hardware stores, and even a tailoring service, which often happened as ACE. But our rebrand is about much, much more than that. All of us at Literacy First knew the time had come to find and embrace a name that better expressed our core mission.
We found one. Literacy First perfectly describes what we are about—that literacy, more than any other skill, can change the trajectory of someone's life, and that learning to read is the foundational skill for all future learning. At Literacy First, we work to build this foundation during students' first years in school, setting them on a path to success in school and in life.
I am very proud of our proven early literacy intervention program. We partner with school districts to address a critical community need—that more than half of the kindergartners in our region already evidence a reading achievement gap when they begin school. Literacy First works effectively with teachers and school staff to provide a safety net for these students, helping them to catch up and excel as confident readers.
At the start of this rebrand journey, I felt considerable anxiety about changing our name. I felt secure in our 22-year identity as ACE (in all of that name's different forms), and I knew we had earned the respect of our partners under that brand. But it was time to adopt a name that expresses our purpose and program clearly…and that doesn't automatically require a lengthy preamble explaining what we do!
I am thrilled to step into this new school year as Literacy First, and to build on our legacy as literacy leaders in our community. We will continue to provide the same high-quality tutoring that our partners have come to expect over the past two decades. We will continue to help more than 2,200 children become strong readers every year. We will continue to provide a meaningful service experience to our tutors, helping them grow into teachers and engaged citizens. We will continue to find ways to change the lives of students and increase their chances for a brighter future. I am so proud of our past, and I look forward to our future as Literacy First.
With endings come new beginnings. Here's to our bright future ahead!